Ms. Perfect meets Mr. Nobody
Summary
Delilah is perfect at everything. She was taking Algebra 1 in 7th grade. She can paint a perfect portrait. She is always picked first for sports. Her voice is angelic. Every boy fell for her.

Niall... not so much. He failed most of his classes and still needed to use his fingers for simple math. He could barely draw and stick figure correctly. He was a wall hugger in dodgeball and always the target to jocks. He is a nobody.

Delilah was too busy with her popularity to even glance at Niall. He thought she was big headed Ms. Perfect. She thought he was a jerky Mr. Nobody. Opposites attracted... Right?

Characters
Delilah Eastridge
Ms. Perfect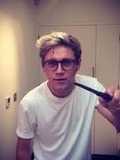 Chapters