Run, Duck, Love... Wait, What?
Summary
Malissa K. a 'riff raff' street girl is constantly running, from everything. So when she turns 17 she gets her (fake) ID and moves to London with her best friend Alenbh aka "batman" and kitten Luna. Will just so happen to be living in the flat under 1D blow or help keep her cover?
Characters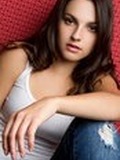 Malissa Knouting
Seventeen, just got her *fake* ID plans to leave the house as soon as she can. Never planned to find love in London when she leaves for vacation.
Chapters