Love Me Harder
Summary
When Libby was sent back to her hometown, away from her past, away from her friends and away from Harry, she isn't able to settle in.

But after two years of living back in her old town and going back to school, she's finally happy.

That is until she meets him again. The boy she fell in love with even though so many people didn't agree with it. She over him. But he's not over her.

Libby gives Harry a month. Thirty days to see if he can make her fall in love all over again.

---
"I'll do anything," He pleaded. "I'll do anything you want me to do."
---
Copyright 2015 @wey_hey
Characters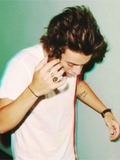 Harry Styles

Libby Williamson
Chapters