Awkward.
Summary
---
Mortified, Fern Stanton could no longer stand to look Harry Styles in the eye. Three years ago during a pool party, not only did he walk in on her topless, but also– rather than him immediately running away, face flushed and stuttering –Harry instead chose to point and laugh. Literally.

Fern chose the wrong day to wear Care Bear underwear...

So now, in their last year of school, Fern has matured (her Care Bear days far behind her) and– despite her three year long embarrassment still going strong –the situation is about to change.

Because this time, when Harry ironically walks in on her again, he doesn't laugh, nor does he leave. What he now does, however, is far from what Fern had ever expected him to do.

---

[a/n] Quite a while ago I found a prompt for this story, I think it was Pinterest but don't quote me on that. Anyway, I absolutely fell in love with it but completely forgot about it until yesterday when I seen something similar. So after that I decided to base this story off of it and eventhough I've modified some the story features, I still give complete credit to whoever made the prompt. On that note, please read on and don't forget to give some feedback (:

Characters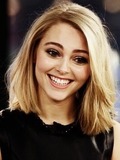 AnnaSophia Robb
envisioned as Fern
Chapters